Bookmakers to Put your Betting Strategy to Test
Top Five Mumbai Indians Players in IPL 2020
The Mumbai Indians enter the 2020 IPL tournament as favourites. The team include some of India's finest T20 cricketers and this has helped their status. The defending champions are set for a strong showing, boosted by these five players.
Who are the Best MI Players for IPL 2020?
---
The Mumbai Indians head into the 2020 season of the Indian Premier League. The eyes of the online cricket betting world upon them. If you like to bet on cricket odds, some of these guys might be your best bet. They represent excellent value, as they are favourites to go all the way. The defending champions and four-time winners look set to put on a strong showing. Captain and Indian legend Rohit Sharma are set to lead the way once again.
1. Rohit Sharma
Sharma is a fantastic player and a true IPL great. His thirst for success continues into the 2020 edition of the Indian Premier League. Sharma enters the competition as the third-highest run-scorer in IPL history. He heads into the next tournament, hoping to gain ground on Virat Kohli and Suresh Raina. They are the only two men to stand between him and the record.
Sharma enters the competition in good form. Hopefully his iconic status for the Indians contributes to both his and their record. They are going for a fifth victory in the tournament.
2. Hardik Pandya
Hardrick Pandya is famous both for his fashion sense and his cricketing skill. He remains integral to Mumbai's chances of a strong showing in the 2020 IPL. He is dangerous both with bat and ball. Pandya was outstanding throughout the previous IPL season. He scored 402 runs and took 14 wickets in 16 games. That resulted in his choice to the Team of the Tournament.
3. Krunal Pandya
Krunal Pandya, older brother of Hardik, is every bit as devastating on the field. The Indians will rely on his prowess with both bat and ball to steer them towards victory. The same goes for his younger sibling.
He is no stranger to IPL recognition, as many consider 2016 as his most dominant season so far. But Pandya is far from being a spent force. He made his international T20 debut as recently as 2018 but remains a fixture in the national side.
4. Jasprit Bumrah
Continuing a formidable focus on internationally recognized domestic talent, Jasprit Bumrah carries many of the Indians' bowling hopes on his shoulders. His unorthodox action is famous around the world and helped him to 19 wickets in 16 matches last year.
At the time of writing, Bumrah sits atop the ICC ODI bowler rankings. And that form doesn't always translate to the T20 stage, but expectations are high. His performance is crucial if the Indians are to repeat their success of 2019.
5. Nathan Coulter-Nile
Australian Nathan Coulter is the only non-domestic player on the list. He is a short-format specialist bowler that will seek to support and even outdo Bumrah with the ball. He brings outstanding pedigree and inside knowledge of some of their biggest rivals.
Now in his second spell with Mumbai, Coulter-Nile has also represented the Delhi Daredevils, Kolkata Knight Riders and Royal Challengers Bangalore. Insight to the inner workings of these rivals could be as valuable as his performances on the pitch.

Chaya
Head of Content
The wordsmith of the group, Chaya is busy enjoying her newfound passion for online betting. When she's happy, she would bet the ranch to plan and create killer content – the ones that urge you to place a bet. If things don't go the way she wants them to, she would constantly act like the world is about to end. We love how she can never decide between Kohli and Dhoni.
Check out our other betting guide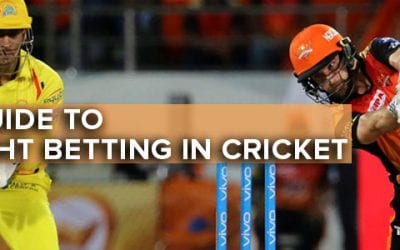 Looking for a detailed guide on Outright betting, a betting method that is popular? Then this guide is for you. The article includes everything you need to know on outright betting. It describes he right measures while implementing the method.

Welcome offer: 100% up to ₹2,500 | Claim Now!